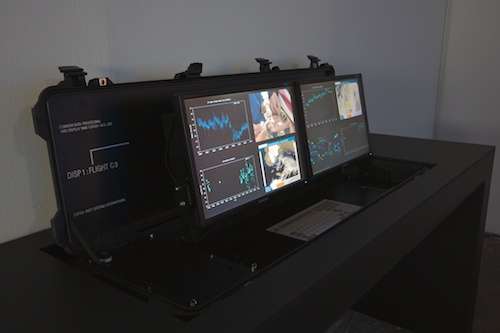 CDPDU @ HMKV Arctic Perspective Exhibition (2010)
CommonData Display and Processing Architecture (CDPDU)
2008-present (ongoing)
The Common Data Processing and Display Unit (CDPDU) is a data display and processing architecture built to open hardware and software standards. The CDPDU serves as one of the public faces of the arctic Perspective Initiative project throughout its duration. the first prototypes of the data collection units were installed in Montreal, quebec, santa barbara, california, ljubljana, slovenia and Igloolik, nunavut. these collection units are all sending their data in real-time to the CDPDU in order to be processed and displayed for the public. In its next phase, multiple CDPDUs will function as a networked computational cluster for the aggregation, processing and display the data and content produced within the API framework. The network of the collection units and the CDPDUs will serve as an interface to the public in addition to disseminating the data to be further studied by scientists, used by artists, or aggregated into larger research clusters. the hardware and software architectures of the CDPDU are open source.
The datasets displayed on the CDPDU are acquired, processed and displayed from the following sources:
terra, aqua and seastar, (MODIS instrument, seaWiFs instrument)
the ARCTIC PERSPECTIVE INITIATIVE hydroponic test units (API HTU)
the university of california santa barbara STEM initiative experimental sensor system (UCSB STEM ESS)
BLACKCLOUD.ORG project, headed by greg niemeyer, university of california berkeley (www.blackcloud.org)
NOETIX Polarview Ice edge
Monitoring sensors and displays list:
AQUA SATELLITE MODIS INSTRUMENT CLOROPHYL CONCENTRATION
TERRA SATELLITE MODIS INSTRUMENT CLOROPHYL CONCENTRATION
AQUA SATELLITE MODIS INSTRUMENT PARTICULATE ORGANIC CARBON
AQUA SATELLITE MODIS INSTRUMENT SEA SURFACE TEMPERATURE DAYTIME
AQUA SATELLITE MODIS INSTRUMENT SEA SURFACE TEMPERATURE NIGHTTIME
AQUA SATELLITE MODIS AEROSOL OPTICAL THICKNESS
SEASTAR SATELLITE SEAWIFS INSTRUMENT BIOSPHERE NORMALIZED DIFFERENCE VEGETATION INDEX
SEASTAR SATELLITE SEAWIFS INSTRUMENT LAND REFLECTANCE
SEASTAR SATELLITE SEAWIFS INSTRUMENT PHOTOSYNTHETICALLY AVAILABLE RADIATION
API HTU Montreal, santa barbara environmental sensors and images
UCSB STEM ESS environmental sensors and image processing
BLACKCLOUD sensor systems
RADARSAT and ENVISAT ASAR synthetic aperture radar (SAR)
The seastar spacecraft, developed by orbital sciences corporation, carries the SEAWIFS instrument and was launched to low earth orbit on board an extended Pegasus launch vehicle on august 1, 1997. The Moderate resolution Imaging spectroradiometer MODIS instrument is operating on both the terra and aqua spacecraft. It has a viewing swath width of 2,330 km and views the entire surface of the earth every one to two days. Its detectors measure 36 spectral bands between 0.405 and 14.385 μm, and it acquires data at three spatial resolutions – 250m, 500m, and 1,000m. the first MODIS instrument was launched on board the terra satellite on 18 december 1999, and the second was launched on board the aqua satellite on 4 May 2002.
The MODIS instruments provide calibrated, geolocated radiance data from individual bands, and a series of geophysical products from land, ocean, and atmosphere disciplines that can be used for studies of processes and trends on local to global scales. this data helps scientists understand the earth as a system, facilitating their ability to predict global climate changes and to differentiate between the impact of human activities and natural activities on the environment. the satellite data displayed in this first phase is processed by the NASA/goddard oceancolor group at the goddard space center. Flight center distributed active data center and can be used for research and educational purposes only and are part of research into satellite data display that is being conducted at the university of california santa barbara Media arts and technology Program under the direction of Prof. Marko Peljhan.
The API HTU systems was designed and developed by the Matthew Biederman and Marko Peljhan for the purposes of the API funded development for polar art/science research.
The UCSB STEM ESS is designed and developed by the students of UCSB MAT under the direction of Prof. Marko Peljhan.
BLACKCLOUD was designed and developed by the BLACKCLOUD team, headed by Greg Niemeyer at UCB.
CDPDU Project Team:
Concept: Marko Peljhan
Central Software Framework: Wesley Smith
Software and Hardware frameworks: Matthew Biederman, UCSB MATP (Amichi Amar, Wesley Smith, Pablo Colapinto, Anil Camci, Andres Burbano), SEADAS, NASA/goddard ocean color group, Marko Peljhan
Enclosure Engineering: Nejc Trošt, Samo Stopar, Andrej Bizjak
Renders: Nejc Trošt
Workshop: C-ASTRAL ltd., Slovenia
Supported By:
University of California Santa Barbara, Media arts and Technology Program
BLACKCLOUD was funded by the digital Media learning grant from the Macarthur Foundation, as well as swissnex, Pro helvetia and the Mellon Foundation.
team rhea cortado (costume designer), aida eltorie (arts Manager), andy garcia (teacher, Manual arts high school), laura greig (artist/web designer), Farley gwazda (artist), nik hanselmann (Programmer/artist), eric kaltman (Programmer), geoff koops (artist), reza naima (hardware engineer), greg niemeyer (Principal Investigator) and daye rogers (Video documentary).
thanks to: UCSB MATP, george legrady, C-ASTRAL ltd., slovenia
With the support of the Ministry of Culture, Republic of Slovenia, city of Ljubljana Cultural Department