ᑲᓪᓕᑕᖅ KALLITAQ - API MMCU - PA001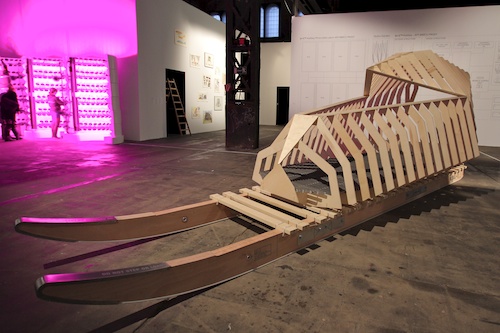 ᑲᓪᓕᑕᖅ KALLITAQ @ HMKV 'Arctic Perspective' Exhibition, 2010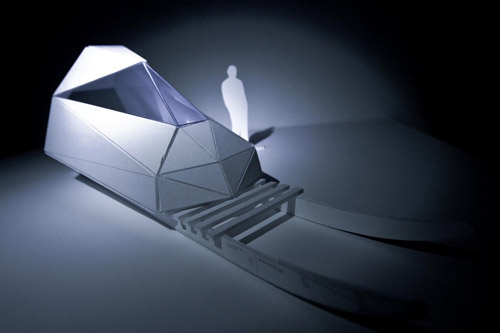 ᑲᓪᓕᑕᖅ KALLITAQ model By Nejc Trošt (C-ASTRAL Aerospace / RESET), 2010
Mobile,Modular habItatIon unit, ongoIng design and production
The Kallitaq is a modular habitation unit designed for mobility and nomadic life on the land for extended periods of time, while being able to be connected back to the community (and the world) through communications technologies and having access to power generation and technological systems from sensors to water production, amongst others. For example, the multi-function unit will be used for: media authoring and streaming, scientific research, hunting, and environmental monitoring and assessment, which could happen simultaneously. the plans for the kallitaq, which is essentially a modern, modular version of a traditional qamutik and iglutaq designs, will be published as open source documents, allowing for the rapid reproduction, and adaptation of the unit by communities as they see fit.
The unit will be able to be changed and adapted for local use and conditions, from the use of sealskins for the covering to the use of caribou or polar bear skin interiors for extreme winter conditions or geographical locations with specific materials available. the units produced by API will use advanced, lighter materials, due to the construction in the south. however, the design is meant to be completely adaptable to different materials, and uses.
The unit will be powered by an onboard Isagutaq system, and will support a full suite of tatsipaa sensors, HF, UHF and VHF rx/tx, and L-band data rx/tx systems. a snow and ice melter will also be a design option on future systems as well as a ultra-lightweight design for dog team travel.
Developed in conjunction with Nunavut community members, API architectural submissions, C-ASTRAL Inc., Paleta d.o.o.
Concept: Matthew Biederman, Marko Peljhan, Nejc Trošt
Design and Architecture: Nejc Trošt
Model Manufacturing Team: Samo Stopar, Andrej Bizjak, Aljosa Lozej, Miha Bratina