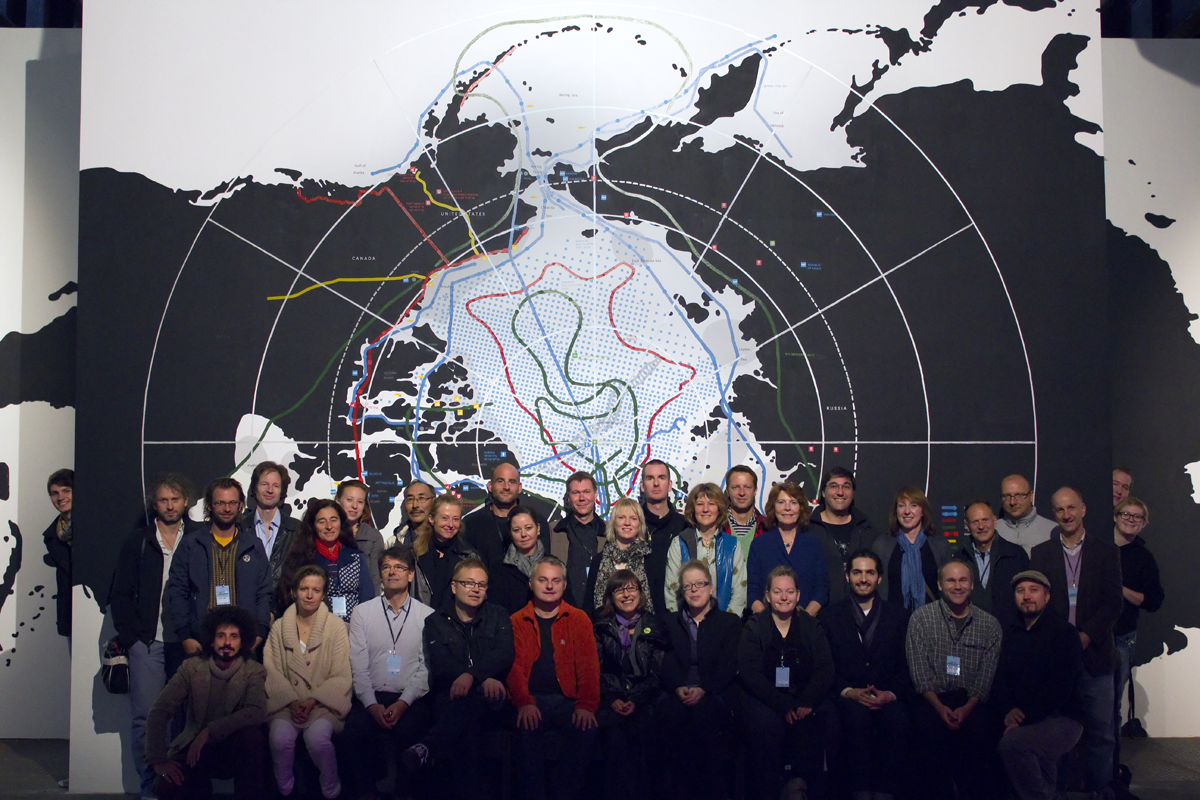 NORTHERN LEADERS, ARTISTS, RESEARCHERS, WRITERS GATHER IN GERMANY TO DISCUSS AND DEVELOP ARCTIC PERSPECTIVE INITIATIVE STRATEGIES
September 28, Dortmund, Germany
A three-day open-space conference was held in Germany at the HMKV Phoenix Halle, gathering some of the world's top thinkers, leaders and artists dealing with the Arctic region, its geopolitics and inhabitants. The participants shared ideas concerning the sustainability of the circumpolar region intertwining a variety of perspectives and topics such as: culture, ecology, technology, autonomy and traditional knowledge. The group decided on several directions for strategies of collaboration between northern communities and the Arctic Perspective Initiative (API) in order to further their mandate of ʻproviding greater autonomy through strategies of open systems sharing.'
Ideas to be put into practice include a community based workshop and lab that will provide outreach and education facilities for learning techniques of fabrication, hands on technology repair techniques, new media authoring and literacy, a system of hydroponic community gardens that will be powered entirely from renewable energies and many other exciting proposals. API focuses on empowerment through the authorship, ownership and use of enabling technologies both traditional and contemporary. The workshop was decided to be built in Igloolik, Nunavut, and will serve as a model of autonomy, energy independence, community learning, and artistic production for the community as well as to house experts in order to share their knowledge with and learn from the local inhabitants as an ongoing process of exchange between northern and southern experts.
The conference was truly an international gathering, reflecting the importance of the North on every scale, from the geopolitical to the individual. Attendees included (among others); Paul Quassa(CA/NU), a chief negotiator of the Nunavut Land Claim, Sven-Roald Nystø (NO) former president of the Sami Parliament, Alun Anderson (UK) author of "After the Ice", Barry Scott Zellen (US), author of "On Thin Ice: The Inuit, the State, and the Challenge of Arctic Sovereignty", Michael Bravo (UK), convener of the Circumpolar History and Public Policy Research Group, Scott Polar Research Institute, Cambridge University, and Johan Berte (BE) lead designer for the Princess Elizabeth Station in Antarctica.
By involving leaders from the North and the South, from political perspectives and cultural production, and from industry to ecology, a range of issues were identified and goals of advancing issues important to all northern peoples, including among others:
• climate adaptation and sustainability
• the preservation and use of native languages
• using technology, both advanced and traditional, for greater autonomy
Through the conference, API and the participants have started to draft the Phoenix Declaration stating the importance of the circumpolar region within the world's systems and collaboration with the peoples who have lived there for thousands of years. While the topic of the Arctic is visible in many sectors of society, the declaration stands for the principles of true collaboration and partnership in order to forge a better world. The Arctic is at the forefront of issues surrounding theimpacts of climate changes, and can serve as a model of adaptation and the convergence of traditional knowledge and science with new technologies for the rest of the world.
Pictured:
Front Row (L-R): Denis Jaromil Roio, Katharina Fichtner, Alun Anderson, Tapio Mäkelä, Johan Berte, Helena Drnovsek-Zorko, Inke Arns, Marjie Baalman, Joshua Kauffman, Barry Scott Zellen, Matthew Biederman
Back Row (L-R): Adam Hyde, Martin Varga, Michael Bravo, Catherine Rannou, Annie Désilets, Paul Quassa, Eda Cufner, Guillaume I. Saladin, Barbara Hribar, Jürgen Neumann, Nancy Wachowich, Nik Gaffney, Yvette Poorter, Marko Gabrijelčič, Marilyn Walker, Stephen Kovats, Nicola Triscott, Jack Butler, Marko Peljhan, Dick Robertson, Andrea Eichardt
Not Pictured: Lassi Heinien, Sven-Roald Nystø, Raitis Smits, David Turnbull