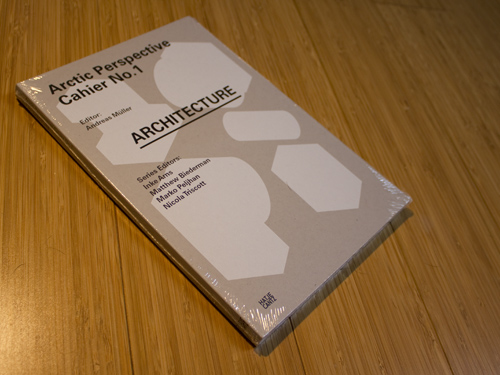 Arctic Perspective Initiative (API) is proud to announce the publication of the first of four Cahiers, published in conjunction with the project Arctic Perspective.
Arctic Perspective Cahier no. 1: Architecture focuses on Arctic architecture and documents the results of the international API design competition.
It is edited by Andreas Müller (An Architektur, Berlin), designed by Ziga Testen (Maastricht/Ljubljana), and published by Hatje Cantz (Ostfildern).
The whole API Cahiers series editors are: Inke Arns, Matthew Biederman, Marko Peljhan and Nicola Triscott
Order physical copies through:
Hatje Cantz Website
Amazon.de
(it should be available on other amazon sites soon - stay tuned)
Also Published under a CC license, feel free to download a PDF copy.
Arctic Perspective Cahier no. 1: Architecture
An open design competition was held in summer 2009 which received 103 submissions from thirty different countries. The first part of Cahier no. 1 is a reflection on the competition process, the three third place sharing awarded projects, and several striking ideas developed in other submissions.
Part Two of the cahier is devoted to a series of essays commissioned for the publication in order to reflect on the manifold questions surrounding the Arctic and its architecture, such as historical precedents, northern cultures, sustainability, and feasibility. Robert Kronenburg points out in his analysis of the submitted projects that the proposals' approaches can be approached via three key issues—transportation, assembly, and environmental impact.
Marilyn Walker's essay responds to the common imagination that the Arctic is an empty territory. She points out that the real situation is far from an empty wasteland, and the circumpolar region is inhabited by about one million people of many ethnic origins, nationalities, languages, and cultures who have an enormous amount of traditional knowledge of building in the Arctic. Their knowledge has evolved over time to produce a wide variety of architectural solutions. Walker shows how spatial configurations of Arctic indigenous settlements and buildings are deeply interwoven with spiritual conceptions.
Carsten Krohn discusses how Richard Buckminster Fuller developed concepts of mobile buildings as early as in the nineteen-thirties. Fuller conceived them as standardized, mass producible structures that were supposed to solve the global housing problems of the time. As Krohn shows in his essay, Fuller developed and built many prototypes of homes and building modules, from a prefabricated bathroom unit to the dome-shaped U.S. pavilion for the 1967 World Expo. The U.S. Navy used similar geodesic dome shelters for radar stations extensively at DEW line stations throughout the North American Arctic and for many years the U.S. Antarctic station was protected under a geodesic dome.
Jérémie McGowan's essay approaches one of the few modernist architects who dealt with the design of inhabitable environments and entire "Arctic Cities" – the British architect Ralph Erskine. Many European architects of the postwar period turned to the colonies of the European empires to experiment with a supposed "tabula rasa" situation. Erskine's well-known project for an "Arctic City" carefully takes into account the climate conditions of its location as well as the social organization of its inhabitants. However, as McGowan points out, there is a dark side to Erskine's Arctic projects that is no less blind to the political context than the projects staged in the European colonies. Erskine's projects in the Arctic were state commissions, either by the Swedish or by the Canadian government, closely entangled with forced resettlement campaigns of indigenous people.
Part Three of the book contains two reports of expeditions to the Arctic. Stijn Verhoeff contributed a long quote from an expedition report by the British explorer Captain John Ross. It appeared in 1819 under the impressive title "A voyage of discovery, made under the orders of the Admiralty, in His Majesty's ships Isabella and Alexander, for the purpose of exploring Baffin's Bay, and inquiring into the probability of a north-west passage." The quote consists of lists taken from the introduction of the report: equipment on board the ships, supplies for the journey, payments of the sailors, the duties of each shift, etc. Their pragmatic format— far from narrative— nevertheless depicts in a very detailed way the conditions of Arctic research at the time as well as the imaginations, hopes, and misunderstandings associated with it.
A report by API members Matthew Biederman and Marko Peljhan describes their Arctic fieldwork of 2009 in diary format. Biederman, Peljhan and Nejc Trošt joined a trip of several Inuit families from Igloolik, Nunavut, throughout Foxe Basin in order to visit traditional campsites and hunting grounds. For API this exercise allowed the opportunity to develop the research unit and its systems with direct input from community members as well as to gain a greater understanding of the social context in which it will be operating.
No. 1: Architecture
edited by Andreas Müller
English, 16,50 × 24 cm, Hatje Cantz, Ostfildern 2010
www.hatjecantz.de
€ 19,80
ISBN 978-3-7757-2679-5
Contents
PART 1

8 Arctic Perspective Initiative — Inke Arns, Matthew Biederman, Marko Peljhan
12 Arctic Architecture — Andreas Müller
17 Arctic Perspective Design Competition Documentation 1/2
26 Mobile Architecture in the Arctic — Robert Kronenburg
40 Arctic Perspective Design Competition Documentation 2/2
PART 2
60 Circumpolar Shelter — Marilyn Walker
82 Mobile Houses: Buckminster Fuller's Concept of a Dynamic Architecture — Carsten Krohn
94 Ralph Erskine, Colonist? Notes toward an Alternative History of Arctic Architecture — Jérémie Michael McGowan
PART 3
106 On Board Isabella — John Ross and Stijn Verhoeff
114 Fieldwork Journal: Foxe Basin 2009 — Matthew Biederman, Marko Peljhan
143 Contributors
Arctic Perspective publications: Designed by Ziga Testen
Cahier no. 1: Architecture, edited by Andreas Müller, 148 pp., 92 illustrations (16 in color) (ISBN 978-3-7757-2679-5)
Cahier no. 2: Geopolitics and Autonomy, edited by Michael Bravo and Nicola Triscott, 96 pp. (ISBN 978-3-7757-2681-8)
Cahier no. 3: Technology, edited by Adam Hyde, 96 pp. (ISBN 978-3-7757-2682-5)
Cahier no. 4: Landscape, edited by Inke Arns, Matthew Biederman and Marko Peljhan, 96 pp. (ISBN 978-3-7757-2680-1)Hatje Cantz books are available internationally at selected bookstores. For
more information about our distribution partners, please visit our website at www.hatjecantz.com.
Series editors:
Inke Arns, Matthew Biederman, Marko Peljhan, Nicola Triscott
Partner institutions:
HMKV, Dortmund (DE), Projekt Atol, Ljubljana (SI), The Arts Catalyst, London (UK), C- TASC, Montreal (CA), Lorna, Reykjavik (IS)
Funded by:
The European Commission, the Cultural Office of the City of Dortmund, the Ministry of Culture of the Republic of Slovenia, the City of Ljubljana, the German Federal Centre for Political Education, the University of California Institute for Research in the Arts (UCIRA) and the Arts Council England.
This project has been funded with support from the European Commission. This communication reflects the views only of the authors and the Commission cannot be held responsible for any use which may be made of the information contained therein.